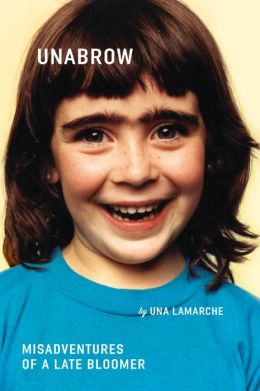 If I had the power to hand out awards, I would present the honor of Most Hilarious Book Cover Ever to Unabrow: Misadventures of a Late Bloomer by Una LaMarche. Before your gaze even drops down to the subtitle of the book, it's evident that this book will invoke laughter. I honestly cannot stop looking this cover!
Una LaMarche proceeds to walk readers through some of her funniest trains of thought, stopping in at times throughout her childhood and into her current role as a still somewhat new mom. Unifying all of her essays in this collection is a tone of self-aware awkwardness, which she completely and utterly owns. Self-deprecating humor in LaMarche's hands doesn't invoke discomfort for the reader, because it's pretty clear that she's laughing right along, as well. She admits to misjudgments and not-so-smart decisions as both a kid and an adult, but she still exudes a confident attitude that everything will probably be just fine in the end.
Her topics go all across the board, from stories of her hirsute nature (leading to a vow from her sister to tackle her unibrow and facial hair if she were ever to fall into a coma), to adolescent attempts to get off the track team by (almost) any means necessary, to trying to explain what it really feels like to give birth without just saying that it hurts a whole lot. (After several gut-busting funny descriptions, anecdotes, and even a diagram outlining her other circles of hell for comparison, she realizes it all boils down to the fact that it hurts a whole lot. But that pain can certainly translate into a ton of fodder for humor later!)
In what just might be my favorite passage, LaMarche laments about the difficulty of obtaining Girl Scout cookies in the off-season, a simple complaint that is likely shared by many, but the light in which she presents this challenge slayed me. When she includes the cookies in a list with several other obscure and illegal items that would likely be much easier to purchase in an urban or even suburban environment, she deftly makes her point. This part will definitely stick with me, especially in a few months, when I won't be able to get my Thin Mint fix so easily as right now.
"The yearly experience of trolling for cookies makes me feel like a creep. I find myself breathlessly tweeting sentences that are probably on government Megan's Law watch lists: Anyone know any Girl Scouts? I NEED one. Anywhere in the country. I'll pay anything!!!! I stare a little too long at kids on the street, searching their outfits for telltale flashes of green. They're the world's tiniest drug dealers and, as with real drugs, I am not cool enough to have a reliable hookup." (page 184)
This entire collection cracked me up, again and again. Reading her essays was like hanging out with a goofball friend, reminiscing about pop culture from back in the day, bitching about the inanities of being a woman in today's world, and sharing a drunken college story or two. Funny, funny stuff.