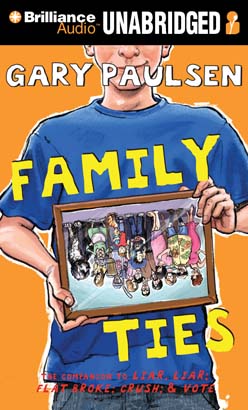 I did not fall in love with Kevin Spencer in some of the other novellas which feature him. He seems a little girl-crazy and annoying (he's a tween boy, so maybe that's apt), but he started to grow on me, enough so that I wanted to check out the latest audiobook. The stories stand alone, so you don't need to have read the other books to get it. In fact, in Family Ties, I saw a kid with a good observation of families in general, and his own family — and his place in it — specifically. I liked him. He was still girl crazy (even thinking in terms of family with this girl who he was going to marry someday). I don't feel as if middle school boys think that way, but maybe they do.
These books are all short, so much so that I wonder why they aren't combined. I think they are really good reads for boys 10 and up (even through middle school), but even a boy who "doesn't like to read" might feel that a 120 page book is a little babyish? I don't know. But they are fast-paced and interesting, good for girls and boys alike. We don't have to like all characters in all books, but I'm glad that I like Kevin Spencer a bit more than I once did.
I like Gary Paulsen's books a lot — though I still haven't read Hatchet, his Newbery Honor book and one which many people list as an all-time fave (Bad kidlit book blogger! I will rectify soon,perhaps as a read-aloud with my son). You can see links of my reviews in the recommended posts below, with my favorite being at the top of the list. Some of the others are included in Cybils round-up posts, and include a couple of other "Kevin Spencer" books, of which Family Ties is one.
NOTES ON THE AUDIOBOOK
Kevin Spencer has charisma (even when he's a Liar, Liar or Flat Broke, and that kind of confidence comes across well in audio book form. Jesse Bernstein did a good job bringing that out along with the insecurity that generally plagues middle schoolers as well.
Check out a sample at the Brilliance Audio Page.