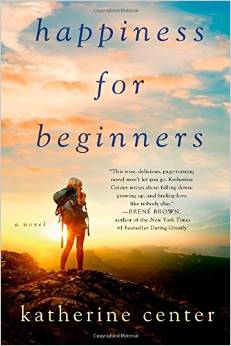 I have read a couple of Katherine Center's other novels. I enjoyed them, in particular Everyone is Beautiful. I think that I liked this one even more, although my memory is short, and I read it a long time ago.
Center has the great ability to write with depth, but in the sort of light page-turning way that I enjoy. She has a great sense of humor, which gives her novels a light touch which is balanced to nicely by her insightful depth into people. Happiness for Beginners dealt with people in different stages of life than where I am currently, yet I still felt like I related to that universal struggle of moving on and defining oneself, no matter if one is 22 or 32 or 44.
Helen is 32. She's been divorced from her unstable husband for a year and is finally trying to get back on her feet. Part of her plan of reclaiming and rediscovering herself is deciding to go on an intense hiking trip with a wilderness group. She's not the athletic type, but she wants to prove something to herself. She finds herself with a bunch of college-aged kids, including her much younger brother's annoying best friend. In fact, she ends up giving him a ride to Wyoming, and things get a little weird on that trip.
She finds herself attracted to him, and it's obvious to the reader if not to Helen that he has always had a crush on her.
In spite of the 10 year age difference, I found myself rooting for Jake. What — if anything — was to become of the flirtation was one of the things that kept me turning pages. I also enjoyed pulling for Helen to succeed on her hike. There were many difficult situations and living vicariously through her was fun. A few of the secondary characters were one-dimensional, but many of them were fleshed out and not always what they seemed.
A great read all around.
CONTENT NOTE:
There's lots of kissing (as many of the reviewers on amazon pointed out) and some strong language, which went over my head but was also pointed out by some of those reviewers, so I felt it was worth a mention here for those who choose to avoid it.