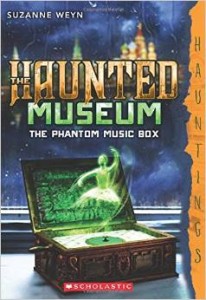 As a kid, I loved scary stories. And scary movies. Anything that involved ghosts and vampires and ghouls was right up my alley, and the scarier and more realistic, the better. I know I'm in the minority with that bent, and I've definitely outgrown most of it, but my kids are now of the age (9 and 11) where they're exploring things that are a little scary, too. They tend to be more susceptible to nightmares, so we keep it toned down, which makes The Phantom Music Box, the second book in The Haunted Museum series by Suzanne Weyn, a perfect choice.
Each of the novels published follows a different child who has ventured into the Haunted Museum somewhere in the world. In that sense, it's nice that you don't have to have read the first or second book to follow what's happening in the series. In The Phantom Music Box, Emma loves to dance but skips her class to attend her best friend's birthday held at the Haunted Museum in her hometown. While at the museum, she is annoyed by a guard who seems too interested in keeping her from following the number one rule of Don't Touch Anything in the museum, and sneaks a big thumbprint on a music box.
Nothing seems to happen, and her defiance of authority is quickly forgotten. When she receives a package later that night from the Haunted Museum, they assume it's a party favor from the gift shop. The fact that it's a replica of the music box Emma had touched doesn't strike anyone as too odd.
As the music box quickly takes on a life of its own, Emma does her best to get rid of it, but it keeps reappearing, and no one takes her panic seriously. From that, Emma decides to solve the mystery on her own, which takes on on a scary path that includes time travel. Though the book and scenes are scary for a kid, they aren't graphic in any way, and there is enough levity and the pace moves fast enough that it isn't enough to stay with you and give kids nightmares – at least not mine, who are already prone to nightmares.
The book is a step up from many of the early chapter books that kids start out reading, but it is still a fairly quick read and not too daunting that will turn off mid-elementary school students from reading it. My only quibble is the consistency within the book. For the majority of the book, Emma wants nothing more than to get rid of the music box, but then she suddenly does all she can to maintain control over it, with no rationale given for her change in perspective. There is a bit more explaining that needs to be done for me – as an adult – to accept this, but my 9 and 11 year old children both gobbled this book up and loved it.
Again, from an adult perspective, I do appreciate the insertion of a bit of history into the work of fiction. Emma is transported to Boston in 1892, where there are gaslamps and the clothes Emma is wearing are considered eminently unsuitable. There is a bit of a history lesson without anything being overtly preachy, which means my kids absorb the information without realizing it, something I love seeing happen. The same holds true for dancing and sharing some of the challenges and difficulties of performing and competing at the highest level, something kids often want to do without knowing the sacrifices they may be making.
Written by Michelle of Honest & Truly! who took only six months of ballet as a second grader before deciding it was not for her. See what has captured her interest instead on her blog Honest & Truly! and follow along with her on Twitter where she is also @HonestAndTruly.