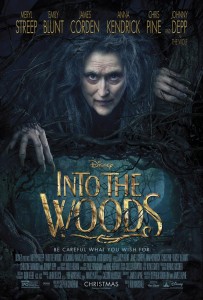 I received free tickets to an advanced screening of the movie, but my opinions remain my own.
The fractured fairy tale is very popular these days on TV and in books. Into the Woods is a musical that has been performed on Broadway and in school theaters everywhere, but I've never seen it, though I'm a fan of musical theater. My kids and I saw the movie Into the Woods, and it was a big hit with my 10 year old son, my 16 year old daughter, and myself.
It's a different take on the stories of a baker and his wife, Jack, the Giant, Little Red Riding Hood, Cinderella, Prince Charming, Rapunzel. They all come together on separate journeys into the woods.
The theatrics and musicality of this film is great. The clip below featuring Anna Kendrick as Cinderella and Chris Pine as Prince Charming are a good example:
It is mostly sung, and it is a long movie (right at 2 hours), so it might not be the best fit for very young viewers. It's also a little scary in places and dark. It didn't bother my 10 year old at all. The bits of humor kept us all entertained, and the story was moved along by the musical numbers. There were also plenty of young kids in the audience, and I was surprised that they stayed interested and involved.