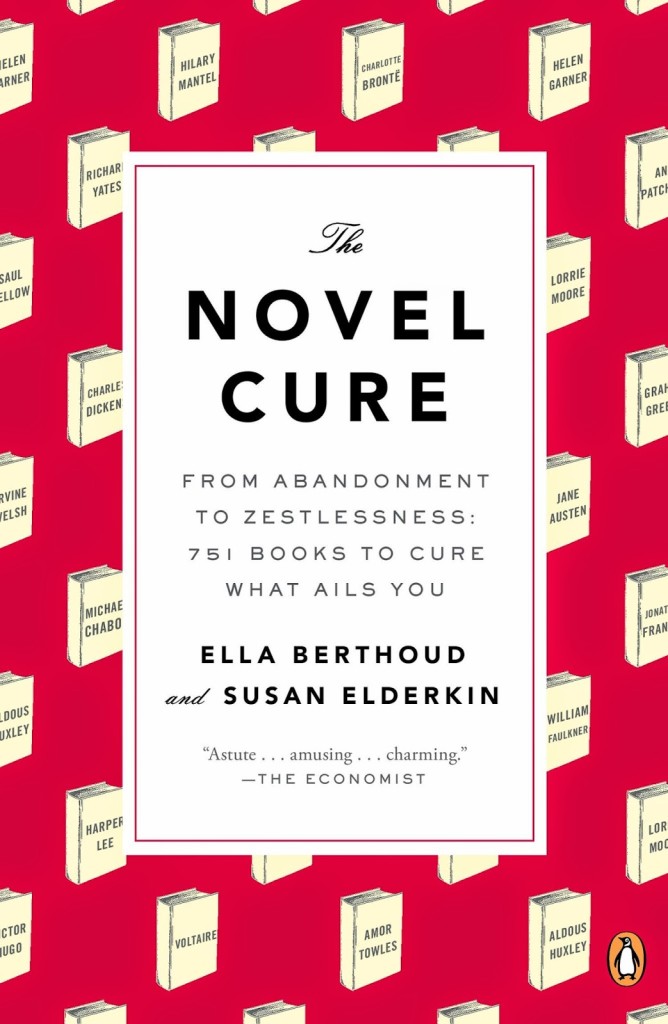 With most medical guides, you can look up an illness and find information about diagnosis and treatment, maybe even for self-care at home. Ella Berthoud and Susan Elderkin have taken a different route, one they're dubbing bibliotherapy, or "the prescribing of fiction for life's ailments." In The Novel Cure: From Abandonment to Zestlessness: 751 Books to Cure What Ails You, the authors round up fitting titles for your therapeutic reading.
The idea behind this collection is that literature can be used to provide relief or comfort, and the ailments that they include are vast and varied. These ailments often fall more in line with life-related problems than medical illnesses, so "Bullied, being" and "Organized, not being enough" will be listed alongside "Panic attack" and "Sleepwalking." For each problem that is included, one or more novels are prescribed for assistance or understanding, and there is a mixture of classics and more contemporary novels among the prescriptions.
Interspersed through the A-Z guide of problems readers will also find very specific "reading ailments" listed, such as "Children requiring attention, too many" and "Read instead of live, tendency to," which just happen to be two that jumped out at me for no particular reason. (Ha!) For these thirty or so ailments, very specific cures are offered and explained, and the advice given will surely touch literature enthusiasts' hearts. As if that wasn't enough to please bibliophiles, the forty "Ten Best Lists" organized in different categories will undoubtedly provide even more reasons for smiling. "The Ten Best Novels for Teenagers" caught my eye, and though he's only just 14, my son has already read half the list! The other half has got me planning some shared reading in the coming year.
The Novel Cure is clearly a book for lovers of books, written for the type of person who will delight in turning through the index and seeing their favorite titles listed and those who recognize how deeply affecting a novel can be.