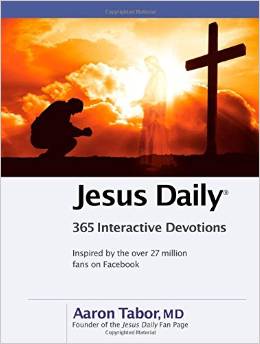 I do have some devotional apps on my phone and tablet, but honestly, my phone is still a distraction for me, and for that reason I prefer hard copy books and Bible studies. Jesus Daily: 365 Interactive Devotions is a devotional based on the most interactive Facebook page in history. Each day has a devotional and some sort of challenge — of a post to social media, or something to journal or something to do to live our your faith.
It's pretty basic, so it would be a good devotional for someone who hasn't done a lot of in depth Bible study, or for a quick start to your morning with a daily interactive challenge. It might even be good to buy one for yourself and for your friend or family member, so that you can connect together and add another level of accountability.
Check out a sample page from the Jesus Daily devotional.
You can buy Jesus Daily at  amazon, Barnes & Noble, ChristianBook.com, and Walmart.
Enter to win
You can enter to win your own copy of the devotional, as well as a Jesus Daily t-shirt. Follow the instructions in the widget below to earn one or more entries.