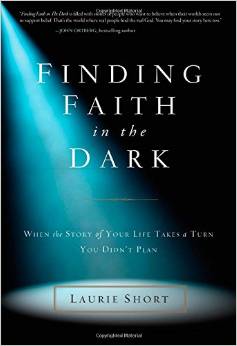 Finding Faith in the Dark by Laurie Short is a nice quick easy read. Reading other people's stories backed with scriptural principles is always an encouragement.
Laurie uses her own story of prolonged (unwanted) singleness and a broken engagement to share how she continued looking to God even in the midst of unwelcome and difficult circumstances. She also shares stories of others of tragic marriage difficulties, illness, and other unmet expectations. The subtitle sums it up nicely "When the story of your life takes a turn you didn't plan."
Can any of us really plan? Not really. We can make plans, but circumstances, the will of others, and of course God's overarching plan for our lives often causes things to happen in a way different than we hope.
This book is not overly deep or theological, nor is it overly chatty. It struck just the right balance for me between teaching Biblical principles and sharing practical examples of those who chose to seek faith in the midst of disappointment.
The size also worked in the book's favor. It's short, which to me generally translates as "too easy" (okay, I'm a book snob), but in the case of Christian nonfiction, no matter how wowed I tend to be in the beginning by the ideas, or writer's style or stories, by the middle or last third, I find myself often thinking, "Okay, I get it," and have to force myself to finish.
This book was meaningful but it was just the right length and tone to keep me reading. It would be a wonderful book to give to a friend in tough circumstances. It's not preachy, it's just encouraging, and for someone who needs encouragement, he or she could read it through easily in a couple of days.