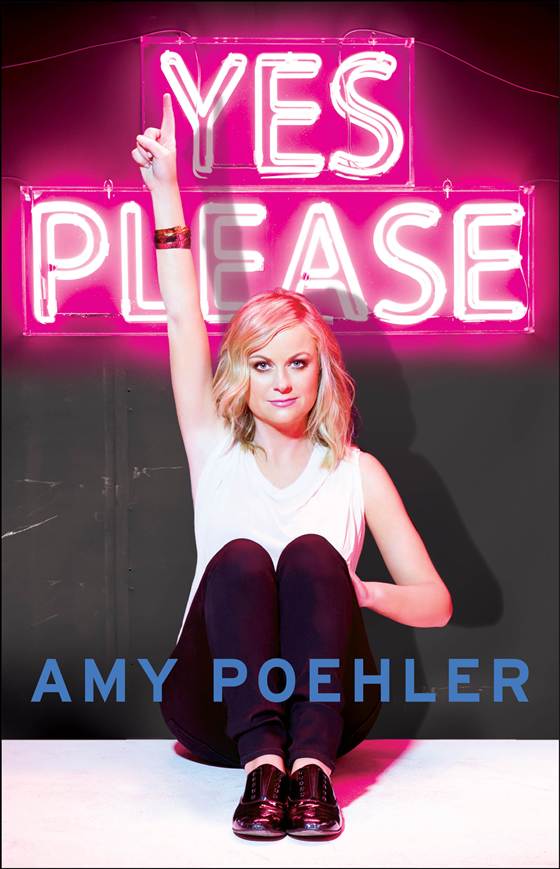 Amy Poehler. For many, many people, myself included, Amy Poehler is a comedy genius. Some know her best from Saturday Night Live, and the image of her as an exasperated Hillary Clinton next to Tina Fey's Sarah Palin will never be forgotten. Others came to adore her as Leslie Knope on Parks and Recreation. The true-blue fans from way back will cite her brilliance as a founding member of the Upright Citizens Brigade, a comedy troupe who had their own show on Comedy Central in the late 1990s. Regardless of your familiarity level with any of her work, picking up her (not-exactly-a) memoir is a fabulous idea.
If Yes Please isn't exactly a memoir, then what is it? Yes, the majority of the book is comprised of personal stories, but there's a different feeling to the book as a whole, at least to me. For as much as she shares of her personal life and her many years in the business, there's very little that anyone could deem as even slightly 'juicy.' Somehow she writes for over 300 pages, yet you get the sense that for all she reveals, there is still very much she keeps private… even as you feel like you could totally be her new BFF if she got to know you, too.
In addition to stories of her rise in the world of comedy, Poehler also shares childhood tales that reinforce her overwhelming relatability. Her parents sound delightful, and as a fellow New Englander born in the 1970s, her family experiences rang with familiarity of time and place for me. Though the chapters jump around in chronology and subjects regarding her personal life, they all retain a level of self-reflection that may surprise some. Just when you think the tone is light, she drops a nugget of vulnerability or an admission that doesn't paint her in the best light, and she becomes all the more interesting and real.
When she tackles the subject of aging, her words hit home hard. Not yet "middle-aged," but not really among the "young" anymore, her description of being in her early forties rings true– this space of a little bit of both. Her assessment of the benefits of getting older aren't rose-colored, but realistic, acknowledging the parts of life that fade to the past, while looking positively toward what is to come.
It should be noted that Poehler continues to keep it real as she reveals not-so-innocent aspects of her history, including some drug use and an occasional penchant for dropping strong profanity where it works best (in my not-offended-by-profanity opinion), along with a few frank sections dealing with sex and sexuality. Nothing, though, that would be out of the realm of conversations among myself and my friends in my general age group.
I most definitely did laugh out loud at sections in this book, and I enjoyed sharing with my husband the tiny tidbits she drops about her interactions and friendships with other celebrities, but my favorite parts of Yes Please lay in the subtle moments in the personal narratives which Poehler weaves with humility, honesty, and humor.