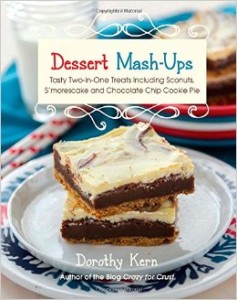 As an inveterate home baker, I love discovering new recipes and sources of inspiration. The description of Dessert Mash-Ups: Tasty Two-in-One Treats Including Sconuts, S'morescake and Chocolate Chip Cookie Pie by Dorothy Kern sounded right up my alley. After all, I've managed to find a way to incorporate s'mores into all sorts of desserts on my own from s'mores cookies to my own version of a s'mores cake. What's not to love?
This cookbook came about as Kern experimented in her kitchen beyond her favorite pies and mixed two desserts together in new forms and realized that there was a real audience for something new and fun like this. Truffles stuffed inside brownies? Why not? And today, it isn't even considered that unusual.
The book contains 52 recipes and covers 152 pages. I like that ratio, as it gives plenty of room for photos of each finished product, along with the step by step instructions. I am also one who loves an introduction to each recipe, sharing what inspired it and what makes it special – since I so often have my own stories about how my dishes have evolved over time.
Needless to say, upon seeing this cookbook appear in my house, both my children disappeared with it and began plotting. Though they agreed that my version of a s'mores cake was what they preferred over Kern's version, which saved me several thousand calories since I wasn't begged to make that one, there were plenty of recipes that they cannot wait to explore.
Pumpkin pie magic bars? I'm not a fan of pumpkin pie, but I love pumpkin in small doses, and magic bars are one of my all time guilty pleasures. That's what a mashup is all about. Kern has plenty of creativity that will appeal to young and old. (Oreo peanut butter anyone?)  The recipes aren't overly challenging, nor do they contain all sorts of specialty ingredients that aren't found in an average pantry already. Yes, you might have to purchase a few ingredients, but they aren't exotic ones you'll never use again. As a baker with limited cabinet space and bulging spice racks, I appreciate that.
There are so many recipes in the book that I cannot wait to make for myself, and the ones I have tried have turned out well thanks to clear instructions and the helpful tips on the side. I blame Kern for my inability to see more improvement from my efforts at the gym, but at the same time I'm happy and inspired to make more of my own creations, as well.
Tomorrow morning? Chocolate Chip Monkey Bread Muffins. Just trust me.
Written by Michelle of Honest & Truly! who spends more time in her kitchen than any other room. She loves sharing recipes on her own blog Honest & Truly! and on Twitter where you can follow along with her as @HonestAndTruly.