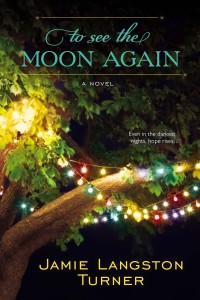 This was my first time to read a Jamie Langston Turner novel, but it certainly won't be my last! I was pulled into this long novel from the very start by the strong college town setting, multi-faceted characters, and beautiful writing.
Julia Rich is at an interesting stage in her life. Her husband died suddenly last year, which has caused her to reflect on their marriage. Why didn't she ever give herself fully to him? I actually wish that there had been more details about her husband, but sometimes we don't have epiphanies about all the issues in our past that can be wrapped up in 400 pages, so I'm fine with a little mystery.
The second big change in Julia's life is that she's been granted a one-year sabbatical from her position teaching American Literature. She's being encouraged to write, but some past mistakes in her life have blocked up her ability to create her own fiction. She doesn't know exactly what to do with that time. She's close enough to retirement that it has her thinking about what her future will be in ten years or so — on permanent sabbatical.
The third change comes via a message on her answering machine. The message keeps breaking up, but it's from Carmen, the daughter of her brother Jeremiah, who said she was in the area and wanted to come by. Jeremiah left home when he was a teenager. Julia and her sister Pamela knew that Jeremiah was living in a trailer in Wyoming with an older woman and their child, and they also knew that he had been killed about 10 years earlier. Julia has no way to contact Carmen, but she does not want her to visit. What could she want with Julia? What does Julia have to offer a teenage girl?
I don't want to give away anything about the plot, but Julia and Carmen each have secrets. In sharing the secrets, they lose a little bit of their power.
I enjoyed seeing all the characters in To See the Moon Again grow from the one-dimensional characters that Julia assumed them to be into fully flawed and lovable people.
Enter to win
I'm happy that the publisher has offered to share a copy with one of you! Please follow the instructions in the widget below.