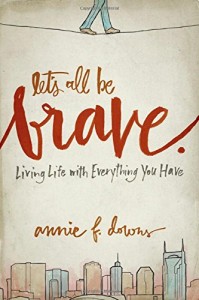 Popular blogger Annie Downs' new book Let's All Be Brave challenges and encourages readers to try "Living Life With Everything You Have." She also teaches us that bravery isn't just about doing something that someone else considers hard. Sometimes bravery is just playing with the cards you've been dealt — staying single, recovering from a divorce, pursuing a dream, making a change, supporting a friend.
We have to say yes. Even when it's scary or costly or unknown. We don't screw up by saying yes to the wrong things; we screw up by letting all the floats in the parade pass us by and never jumping on one of them for a ride to the end.

page 101
This is a quiet book. The essays highlight pieces of Annie's life that she now realizes were brave. One of the biggest reminders that I got was that following God's leading courageously one time helps us to do it again in the future. When we listen to God and obey, His voice gets easier to hear. Things that used to seem so brave and out of our comfort zone don't require as big of a step as they used to, but that doesn't mean that they aren't still brave.
A powerful section challenges wholehearted trust in God, "even if he does not."
I know God can heal my friend's illness, but even if He doesn't…
I know God can fix relationships, but even if He doesn't…
I know God can provide for me financially, but even if He doesn't…
I know God can help us get pregnant, but even if He doesn't…

(page 115)
The book also has helped me identify bravery in myself and in others that I might not have formerly called brave.
The biggest challenge for me is probably trying to say yes to what is hard and no to what is easy, but this book will stick with me as I evaluate my options.
Check out her #ThatisBrave campaign. Follow her on twitter as well.