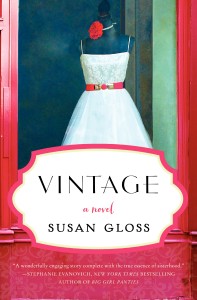 A vintage clothing shop in a small college town is the backdrop for a lovely story of resilience, self-awareness, and the bonds of friendship that can grow among women in the novel Vintage by Susan Gloss. Violet Turner owns and runs the shop independently, as it had always been her dream to do, but the path she took in fulfilling this dream was filled with obstacles and detours until finally getting her to her destination. She soon finds out that more obstacles lie ahead, ones that could potentially destroy everything she has built, and she may have to open herself up to accepting assistance and collaboration before finding her way again.
Violet is a lover of personal stories, and being in the market for buying old clothing and accessories, she hears many of them on a regular basis. With each item that she purchases for either her own personal collection or for reselling in her shop, Violet retains the story of its origin, the reason it was dear to its original owner. Further making these connections between articles of clothing and the characters important to the story, each chapter opens with a brief description of an item from Violet's inventory.
The strength of this story is in its characters. Alongside Violet, readers are introduced to a handful of other women who become close to Violet and influence her life. What I really appreciated was that the women were especially diverse in age, ranging from an 18-year-old woman on the verge of the birth of a child to an elderly woman nearing her final days. The connections and bonds made among these women go beyond their cultural and background differences, and they model respect in the ways the women look past themselves to understand others.
I'd call this a pleasant read, in that it didn't delve too deeply in its writing style or plot development, but it was enjoyable to take in. The ways in which the special pieces of clothing were connected to the story, in both present day events and through flashbacks for all of the important characters, added a unique twist to the novel.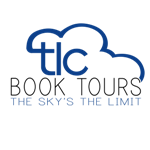 We're happy to be participating in the TLC Book Tour for Vintage. Check out all the stops on the tour to hear other book bloggers' opinions of the book.
Check out our current giveaways. Subscribe to our email feed. Follow us @5M4B on Twitter or on Facebook.