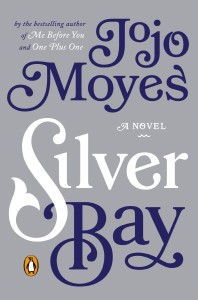 JoJo Moyes has become a big breakout success in the last year or so here in the states. Because of that her backlist titles are being released here as new audio releases, ebooks and more. Please check the related posts below for reviews of her other titles that I've enjoyed.
Silver Bay first published in 2007 abroad and was published as an ebook in April and will be available in paperback on August 26. It definitely feels like the writings of less experienced writer. In the end, I enjoyed the characters and the story, but it did take a little bit of time to get into.
Kathleen is a senior adult, known for having caught a record-breaking shark when she was a teenager. She's run a family hotel for years, but it's seen better days. Mike Dormer flies to the coastal Australian town on business. No one is quite sure what his story is, and this uptight Englishman doesn't quite fit in. He's drawn to Kathleen's niece Liza and Liza's daughter Hannah in a way that he can't quite understand. The longer he stays in Australia, the more he grows to love it — and the people there.
Some of the differences made the book unique as compared to other JoJo Moyes books I've read — the Australian setting, complete with whalechasers — and then there are things that I've begun to see as one of JoJo Moyes' strengths, like characters who have been hurt but are still strong, and well-developed child characters and adult characters who have a warm spot for those young people.
It was a little slow-moving at times, but it was still a story I enjoyed and am glad I read.