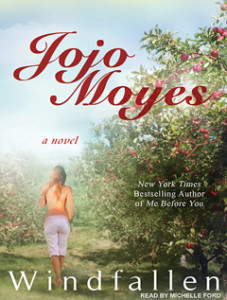 Since I first "discovered" JoJo Moyes a few years ago, her success has skyrocketed here in the U.S. Because of that, a lot of her backlist titles have been re-released, including a new audio version of Windfallen from Tantor Media.
I'm going to take the easy way out with the plot description but please keep reading for my thoughts on the novel:
When a group of bohemians takes over Arcadia, a house on the seafront, Lottie Swift and Celia are as drawn to its temptations as Merham's citizens are appalled by them. They set a chain of events that have longstanding and tragic consequences. Now, fifty years on, Arcadia is returning to life, and its inhabitants stirring up strong feelings again.
For Lottie Swift, Arcadia has always been magical. The breathtaking art deco house perched above the shoreline of the well-ordered village of Merham seems to stand still throughout the years. It has never changed, not really, but Lottie's fate and fortune have been inextricably linked with those of the beautiful house, and it will forever be fixed in her mind as a symbol of adventure, youth, and loves lost and gained. Even as her life–and the house–falls into disrepair.
Years later another young woman comes to Merham. A designer hired to make over the now-empty Arcadia, Daisy Parsons seeks a new beginning, as Lottie once did. Fleeing a broken relationship and now facing being a single mother, Daisy finds refuge in the house, and something more–a love she thought she would never know again and a friendship unlike any she's experienced before.

The cover of this novel represents it well. It has an old-fashioned romantic feel. It seems sort of like something I would find on a shelf in a vacation home and devour in a few days spent relaxing at a lake. There's mystery as the story unfolds regarding the characters and their associations with each other. There are misunderstandings, heartbreak, disappointments, surprises, and restorations.
As with other JoJo Moyes historical fiction, I loved the threading of the past with the present and finding out how characters are related as their secrets are uncovered. Windfallen is a great book to get lost in.
Please check out the related titles link below to read more of my reviews of JoJo Moyes' novels.
NOTES ON THE AUDIOBOOK:
I enjoy British lit. Even when set in contemporary times, I feel as if I'm in another realm, one with tea instead of supper, gardens instead of lawns and some sort of refinement (even when they are acting in an unrefined way!). Reader Michelle Ford has a lovely voice and hearing it read with her British accent transported me even more. You can hear a sample of Windfallen on audiobook by following that link to Tantor Audio.
This is a long book, which makes for a good audio selection, because one can get more bang for one's buck.