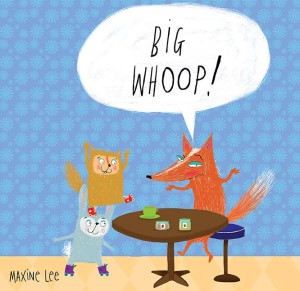 Young children may not be familiar with the word curmudgeon, but when they meet Mr. Fox in Maxine Lee's new picture book Big Whoop! (POW!/powerHouse Books, July 2014), they'll certainly understand the concept. Mr. Fox doesn't smile, and he doesn't laugh. He goes about his business with the same unemotional expression on his face all day long. Two of his friends, Roman and Harrison, want to do something about that.
These fun-loving pals have a plan to get Mr. Fox to laugh, starting out by donning simple costumes and acting like they've turned into zoo animals, but Mr. Fox responds in the same way he always does, by simply stating, "Big whoop," and continuing on with his reading. Roman and Harrison up their game with each page turn, going from silly mustaches to elaborate stories involving outer space trips and even time travel! Will Mr. Fox crack even the smallest of smiles?
Adults reading this one to their little ones need to be prepared to play into the silly factor that is very high with this book, and the more spirited the reader, the more fun the experience. Though my kids were unfamiliar with the phrase "Big whoop!" before reading this picture book, it is now one that they find hilarious to use with each other in a joking way. Maxine Lee's illustrations were described in the promotional material as "in the vein of Oliver Jeffers," who I absolutely adore, and I think that comparison is well-placed. The colors are bright and bold, and the sketching style is similar, but even more so, the overall playfulness of the illustrations reminds me of some of Jeffers' work.
Check this book out for a raucously fun read with your children this summer!