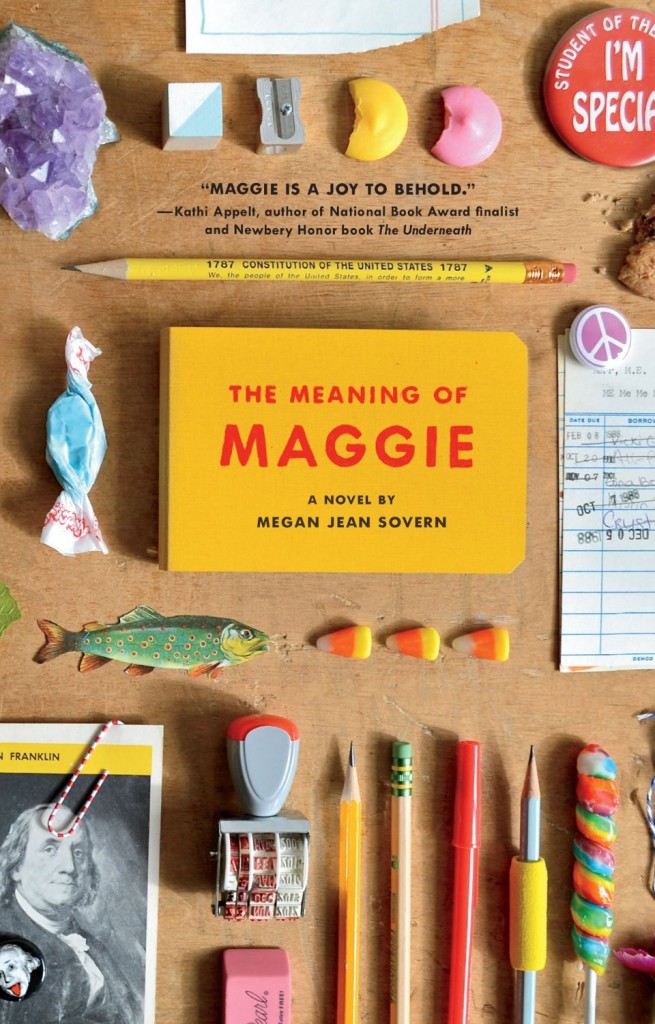 On the morning of Maggie's 12th birthday, her dad won't stop beeping. She's sitting in his hospital room writing in her brand new journal that was a birthday gift meant to encourage her gift of writing and reflecting. She decides to tell the story of her 11th year, since it was such a big one. It was filled with the regular things like bickering with her older sister Tiffany, with whom she shares a room and spying on her oldest sister Layla when she's getting in trouble, but there were also some big changes. Her mother went to work full time when her dad had to stop working. A cute new boy at school catches Maggie's eye (and maybe he's looking her way too?). Maggie doesn't get picked to go to the science fair like she always does, but maybe this project is her most important yet — finding a cure for her dad's illness.
The Meaning of Maggie is a fun heartfelt book. I love Maggie's confidence in her bookish nerdy self, especially in contrast to her older put-together, beautiful, popular sisters. I love her quirky family and the way she loves them even if they are a little unusual.
From the first page:
Mom put me in charge of Dad until she gets back, which makes sense because I am way more responsible than my sisters even though they're in high school and I'm in middle school, but you know, hot girls take longer to mature.
At first the opening on her 12th birthday then flashing back to her 11th birthday seemed a little odd, but Megan Jean Sovern developed the story and the characters so well that when I got to the end which circled right back around to the beginning, I literally had to turn to the front and read the first chapter again.
I love connecting with the folks who meet up every Monday at Shannon Messenger's blog for Marvelous Middle Grade Monday. Check out the other reviews for this magical age group each Monday.