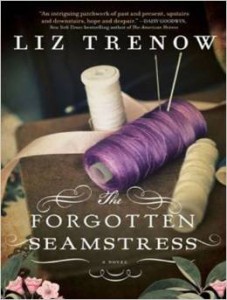 Caroline Meadows is taking care of her mother, whose Altzheimer's disease has progressed too soon and too fast. When she moves to a care facility and Caroline cleans out her house, she finds a quilt which was her grandmother's. Caroline's mother said that she always wanted Caroline to have it. It's beautiful and the unique fabrics seem to tell their own story. The quilt was made by her grandmother's dear friend when she was in a mental facility that recently closed because of unfair practices.
Caroline's investigation leads her to the story of another resident, called Queenie, because she claims to have worked for the Queen. More than that, she says that she had an affair with the Prince of Wales which landed her pregnant. Is she a fantacist, like the doctor's say, or is she the victim of a great wrong?
In between flashes of the past, back to before World War I, Caroline is also trying to deal with her own present situation. After ending a long-term relationship and quitting her job, she's looking to start the second half of her life being who she wants to be.
The Forgotten Seamstress kept me interested in both the historical and the contemporary stories. The mystery came together, unfolding piece after piece in perfect time.
Fans of Kate Morton and JoJo Moyes should check out this new novel by Liz Trenow.
NOTES ON THE AUDIOBOOK
Listen to a sample of the book at Tantor Audio's page. You'll hear Anne Flosnik's reading which makes the novel even better. She navigates the different British accents and moods well which immersed me further into the story.