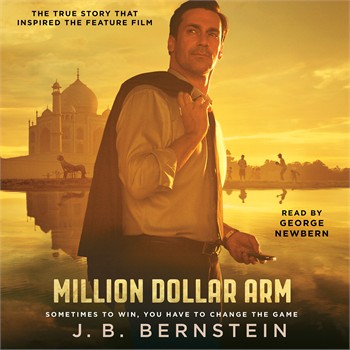 I don't feel like I need to say what The Million Dollar Arm book is about, since Disney publicized the heck out of it for the movie. Scroll down to the bottom of this post to watch a very short video featuring the real J.B. Bernstein if you want a bit more info on the content. I hadn't seen the movie when I first listened to the audiobook, but it seems that the book and the movie were sort of done concurrently. For those who have seen the movie or will see it after, Bernstein talks about how the movie came to be made, a bit about the casting process, and some of the differences between the real story and the movie version.
This is not just a story about baseball. I'm not really a baseball fan, but I still enjoyed it. My 10-year-old son isn't either, and he's interested in seeing the movie. It's a story about dreams and motivation and innovation.
This would be a great gift, perhaps for Father's Day, but like I said, this isn't just a men's book. I enjoyed the humor and the transformation of character, of Dinesh and Rinku, the boys who come to America, as well as J.B. himself.
NOTES ON THE AUDIOBOOK:
This was a great and easy listen. First-person memoirs generally make for good audiobooks. The reader, George Newbern, does a great job. I've listened to several books that he has read and he makes it a good listening experience. You can listen to a sample and read more about the book at the Simon & Schuster audio page.
Summer is a great time to find an audiobook that the whole family can enjoy. Whether you are taking a road trip or just enjoy listening to it at home or hearing 20 minute-bits as you are driving from here to there, I think that this one would be a good one for 9ish and up through adult. I enjoyed it a lot.
CONTENT: Because I'm recommending this for family listening, I wanted to point out that J.B. does talk about the early empty life he led of picking up women and bringing them home. He talks about him getting out of bed when he couldn't sleep and then them leaving. I don't remember any swearing, so it wasn't prolific, though I can't guarantee that there's not a mild swear word or two in the book.

MINE AND KYLE'S THOUGHTS ON THE MOVIE
We both loved the movie! It was a great way to spend a rainy summer day. It was long, and I was surprised that he stuck with it for over 2 hours. The crowd included tween and teen boys and empty-nesters and retirees, and everyone seemed to be enjoying it.
I liked knowing the additional details that I had gained from the book. The book works equally well as a followup, or an introduction to the movie.
There were some differences between the book and the movie, but the spirit was the same. J.B. explains some of the differences in the book.
Even though this is Disney, and is is rated PG, there is still some adult content, like J.B.'s "sleepovers," and some drinking and a mild swear word or two.