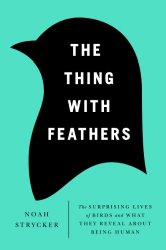 I've long been a casual bird enthusiast, with my curiosity often piqued by simply watching a backyard bird feeder. Beyond being able to identify about a dozen birds typically present in my neighborhood, I can't claim to know a whole lot about the feathered creatures. But, both my knowledge and my interest have dramatically increased after reading The Thing with Feathers: The Surprising Lives of Birds and What They Reveal About Being Human by Noah Strycker. For those with even a mild interest in these creatures, this book offers an entertaining and informative reading experience.
No doubt about it, this series of research- and experience-based essays can only be described as utterly fascinating. Each chapter focuses on a particular type of bird, some more familiar than others. Pigeons, starlings, and hummingbirds are common enough that I'd guess most readers will have had at least some experience with them, but how about magpies, bowerbirds, or albatrosses? In addition to a wide variety of bird types discussed, the topics themselves touch upon intriguing concepts, such as literal "pecking order", memory ability, art and architecture in reference to the game of seduction, cooperation among a community, and long-term commitments among partners. Though we usually think of these in relation to human interactions, Strycker deftly explains them in connection with avian behavior, drawing parallels that had me reading section after section aloud to my husband and my teenaged son.
I bookmarked so many pages that blew my mind, but one of the most surprising, and human-like, behaviors that stood out to me was the expression of grief from magpies upon discovering the death of one of their own. Yes, you read that correctly.
One of the most intriguing behaviors of wild magpies involves their apparent habit of holding impromptu funerals. Sometimes, when a magpie finds a dead comrade, it will begin squawking at full volume, calling in all other magpies in the area, which join in an intense racket as they gather around the body. At some point, they all go quiet; there follows a period of contemplation, during which time different individuals will sometimes gently probe or preen the carcass, before each bird silently takes it leave, one by one. [chapter titled: Magpie in the Mirror: Reflections on Avian Self-Awareness]
Looking at the lives of birds through a lens with which we usually examine humanity made for some remarkable comparisons and new ways of understanding the feathered creatures in our world. Mixing research and anecdotes allows for a casual tone while still conveying factual information and maintaining a highly interesting narrative.