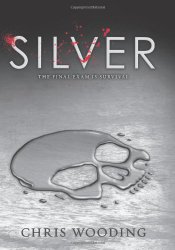 If you happen to be in my general age bracket, you may find yourself comparing moments in your life with memorable scenes from television shows like "Friends." I know, odd way to start a review, but stick with me for a minute. Remember when Joey read Little Women? Well, I couldn't help but reference that (17 year old!!) scene because as I read Chris Wooding's young adult novel Silver, I had to stop myself from putting the book in the freezer multiple times. Seriously, this book had my heart racing, and I stopped many, many times during my reading, sometimes not even making it to the end of a chapter!
While this is intended for a young adult (12 and up) audience, my reaction is more indicative of my own unease with the thriller/horror genre than anything else. Set at a boarding school, the story revolves around a virus-like infection that spreads quickly, immediately changing the campus environment to a deadly scene. Five particular students are at the core of the tale, and each struggles with issues, both universal and specific, with which many teens will be able to relate. Their individual reactions in the aftermath speak to their personal journeys, and the development of their characters is as important to the story as the scary action.
That action? Well, I hope this isn't considered too much of a spoiler, but I think it's important to note that the plot significantly involves zombie-like characters, and much of the violence depicted includes scenes similar to zombie-themed movies. I find that important to note because I happen to be particularly terrified of the whole zombie idea, and I'm fairly certain I wouldn't have opted to read this one had I known that. But, that being said, I powered through with my heart pounding, totally outside of my comfort zone, and… I have to admit that I liked it. There was something a little exhilarating to be scared out of my wits while rooting for these five plucky teens.
My oldest son is about to turn 14 this summer, and I'm going to offer this one up to him, with the forewarning about the zombie-like creatures. I really hope the terror isn't genetic.
Note: I did pass this on to my son, and he read it in one sitting, apparently wholly unaffected by what I considered terror! He was, however, absolutely intrigued with the story and already said he wants to read it again. Maybe I'm just getting too old for this type of read!