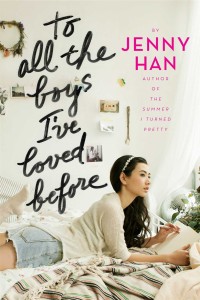 I'm the mother of a teenager, but I also love reading YA just for me. I love remembering what it was like to be a teen.
In Jenny Han's To All the Boys I've Loved Before, we meet Lara Jean. She's going to be a junior, and she knows this year is going to be different. Her sister has just left for college — in Scotland! — breaking up with her boyfriend, literally the boy next door, before she leaves. Lara Jean, Kitty, and her father have accepted Josh as a part of the family, so this changes thing for their family. The absence of Margot is even more felt in this family because she's sort of stood in as their mother since her death years ago.
Lara Jean has never really had a boyfriend, but she's certainly had her share of crushes. But when she decides that she's "over" the boy or that it's time to be over him, she writes him a letter and puts it in her special hatbox. When Peter Kavinsky — the "it" boy of her school — comes up to her with the letter, she's dumbfounded. How did he get it? And does that mean….?? She rushes home to find all of her letters are gone.
I don't want to give anything away, but it leads to a funny comedy of errors and misunderstandings. Lara Jean is a sweet teen with that mix of insecurity and confidence that many teens have. This was my first Jenny Han novel, though I've been meaning to read them, but her characters reminded me of the equally lovable Maureen Johnson's.
CONTENT NOTES (from a mom): This book is about a high school junior, so there is definitely some content that is more suitable for older teens, such as sexual activity, drinking, etc, however this is mostly just discussed in reference to someone's character, but not described or glorified. The swearing is probably moderate — more than just a few mild swear words, but not as prevalent as some novels.
I'm glad to see that there's another book coming out in 2015, P.S. I Love You.