Michelle of Honest & Truly! had the opportunity to travel to see the world premiere of RIO 2 in Miami and interview the cast, courtesy of 20th Century Fox. There was no other compensation, and all opinions remain her own.
In 2011, the wee ones – and I – fell in love with Blu in the animated hit RIO. We loved the colors and the music and the personalities of the birds and their friends and so much more. When I heard that RIO 2 was coming out on April 11, I couldn't wait to see where they'd take this story next.

Fast forward from the last movie, and Jewel (Anne Hathaway) and Blu (Jesse Eisenberg) now have three children and are happily living in a preserve in Rio de Janeiro with Linda (Leslie Mann) and Tulio (Rodrigo Santoro). Jewel continues to do her best to be a wild blue macaw, while Blu clings to his roots as Linda's pet, making blueberry pancakes for his children who have their own iPods and more.
When Linda and Tulio are releasing a newly healed bird into the wilds of the Amazon, Tulio discovers what he believes is a feather from a blue macaw, meaning Jewel and Blu and their family aren't the last of their kind. They set off to find the flock, and Jewel and Blu set off on their own adventure to help them.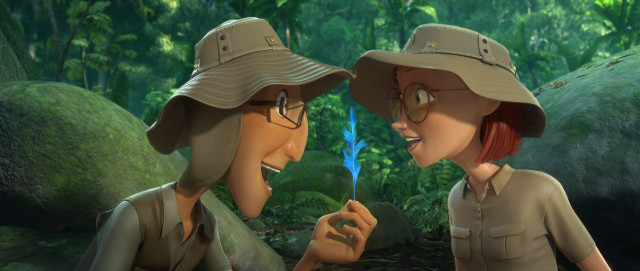 Along the way, many of the same characters meet up with Jewel and Blu from Rafael (George Lopez) and Nico (Jamie Foxx) to Nigel (Jemaine Clement) the evil cockatoo who has a score to settle with Blu. Jewel and Blu do find the missing blue macaws, and it turns out that the leader of them is Eduardo (Andy Garcia), Jewel's father who had thought her long gone.
Jewel fits seamlessly into the life with the blue macaws, but Blu can't do anything right by his father in law, whether it is his reliance on technology to his inability to crack a nut. And of course, Roberto (Bruno Mars) – Jewel's old flame – is there to show up Blu  unintentionally at every turn.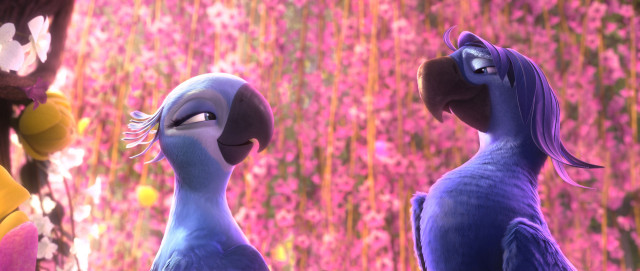 There are plenty of new characters, including the entire flock of blue macaws that also has the irascible Aunt Mimi (Rita Moreno), but my favorite has to be Gabi, a poisonous frog (Kristin Chenoweth), who has a massive crush on Nigel and would do anything for him.
While Nigel is stalking Blu and his family determined to get his revenge, Rafael and Nico are attempting to cast their next Carnivale show. And of course there are the evil loggers who are cutting down the rainforest and about to encroach upon the land that the blue and red macaws share. There are plenty of plots and subplots to keep the movie going.
And I can't forget the music. Just like the music in the original RIO fit perfectly with the story and stayed in your head forever, the score assembled my Sergio Mendes does the same in the sequel. There is gorgeous Brazilian music from all over the country, as well as other bits and pieces that you might not expect, including my favorite – a reimagining of "I Will Survive" sung by Nigel. The songs help to make the movie, and they are definitely another highlight.
The movie itself is cute. The story is very different from the first movie, and in some ways the story is more complex. The characters retain much of their charm, though I miss having more of Blu's gang from Rio de Janeiro central to the movie. There are plenty of other characters to pick up the slack, but they aren't quite the same. Interestingly in the first movie, Nigel seemed to be far more evil while he is drawn with much more of a comic edge to him in RIO 2. I ended up liking him as a character far more this time around.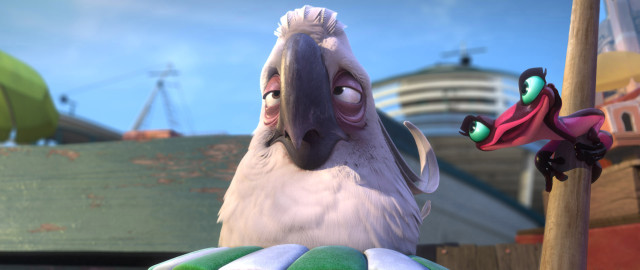 The new characters are memorable and fun, and Gabi is certain to be a fan favorite. As a parent, I'm not a fan of the message she espouses that you would do anything for those you love, even when they don't respect you, but she is an adorable character, and Kristin Chenoweth does a fantastic job portraying her desperation, passion, and longing. Eduardo is the perfect father in law, as a doting grandfather who believes his son in law isn't nearly good enough for his daughter.
There are definitely movies that coast with their sequels, knowing that people loved the first movie and will go see the next regardless. RIO 2 did not take the easy way out. In the stunningly created backdrop of the Amazon, there is an entirely new movie here that doesn't disappoint. I'm lucky enough to have seen it before it was released in theaters, and you can bet that I'll be back to see it again with the wee ones.
RIO 2 will be released in theaters nationwide on Friday April 11. Visit the Official Website, and like it on Facebook. You can also follow on Twitter, YouTube, andGoogle+.
For more on the RIO 2 production and cast, see:
Anne Hathaway and the RIO 2 cast sharing how they unplug from technology
Thoughts from the RIO 2 cast on traveling with children
Written by 5 Minutes for Books contributor Michelle who almost wishes she hadn't let the wee ones start listening to the RIO 2 soundtrack, as they parrot (pun intended) the music almost nonstop. See what else drives her batty on her blog Honest & Truly! and follow along with her on Twitter where she is also @HonestAndTruly.