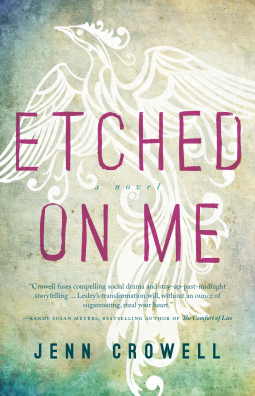 The first part of Etched on Me was so explicit in sexual content, self-harm violence, abuse and language that I was put off. I wouldn't have kept reading due to the explicit content, but the writing was excellent, and I was absolutely intrigued by the character of Lesley, the teen fighting to protect herself after incestuous abuse. I liked the fact that her dilemma — of having to fight to regain custody of her infant daughter after trauma and mental illness — was set up at the beginning and we found out how she got there in bits and pieces as the story was unraveling.
I'm glad that I kept going, because the second half of the story was strong as Lesley's true character was revealed, as one who refused to be a victim of her circumstances. The shades of grey in regards to mental health and child protection are artfully portrayed and caused me as the reader to
This was a truly unique novel. Lesley and the entire supporting cast of characters will stick with me for a long time. If you can stomach the explicit content, I recommend this author and this novel.
I was so intrigued by the themes of this novel, and I think they are of interest to mothers, and to those who have been touched by mental illness or self-harm in any way, that I am featuring an interview with the author Jenn Crowell at 5 Minutes for Mom dealing with her own experience of self-harm and mental illness and how it affected her personally in regards to motherhood.
Read my interview with Jenn Crowell and leave a comment over there to enter to win a signed copy of this novel. You can also leave a comment here first and log that in as an extra giveaway in the widget on the interview post.