I've read one other book by Steena Holmes (and Elizabeth read the follow up. Click through for our reviews). I like that her books tend to be clean and suspenseful, dealing with real-life contemporary issues. The Memory Child is no different, though perhaps this one is a bit out of the box, dealing with a woman's fear of having a child due to her own mother's post-partum psychosis which caused her mother to kill her newborn son and then herself.
Diane always knew that she did not want to have children, at least biologically. She and her husband Brian are very much in love and for Diane, career and husband was enough. When she gets pregnant, she embraces her fears and she and Brian make plans for the baby's birth.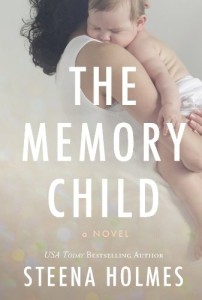 But life doesn't always follow our plans. Diane and Brian are both offered promotions, and Diane has to go on bedrest while Brian is traveling, so they hire Nina to take care of her and serve as a nanny after the baby is born.
The story is told from both Brian and Diane's point of view, going back and forth between the present and the past. The reader knows that something is wrong, but we aren't sure exactly what. The truth is unveiled in bits and pieces. I read this short novel very quickly, because I wanted to know what was happening.
It did wrap up a little quickly, but all in all, it was a good read, especially if you like character-driven suspense.
Check out our current giveaways. Subscribe to our email feed. Follow us @5M4B on Twitter or on Facebook.