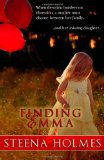 Finding Emma is a novel dealing with every mother's worst nightmare — the unresolved disappearance of a child. I know some women steer clear of that topic to avoid feeding their fears, but thee focus of author Steena Holmes' novel is really about how tragedy — any tragedy — affects those left to survive.
Though it's been two years, Megan cannot let go of hope of finding her three-year-old daughter Emma after she disappears from the front yard. There are no leads, but Megan sees her everywhere. Of course every time she encounters a child who she thinks could be Emma, the disappointment brings her further to the brink. Her quest to find Emma — to never give up — results in neglect of her other two daughters and her marriage. She has to make a choice to continue to live in the past or to give it up to save her future.
That sounds awfully dramatic the way I described it, and of course there was plenty of emotional tension and melodrama, but I have to reinforce that's not really what I took away from the novel. Holmes is able to balance the gut-wrenching uncertainty of facing a missing child every single day with the hope and strength that courageous women possess.
Megan's friend, her daughters, and her husband help her see what's really important. You'll just have to read it for yourself to find out whether that's finding Emma or letting her go. I recommend this moving and real novel for those of you who like realistic women's fiction.
50% of the proceeds of the paperback edition of Finding Emma will go to The Missing Children's Society of Canada. See mcsc.ca for more. At the time of this writing, the Kindle edition is only $2.99
Like most mothers, Jennifer Donovan has had that heart-quickening feeling that she has lost a child, but thankfully they've just been misplaced, not really missing. She blogs at Snapshot about other mothering mistakes and more.