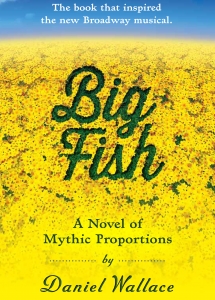 When Nancy posted her review of Daniel Wallace's The Kings and Queens of Roam, I was reminded that I have never read his work, though I've always been curious about Big Fish, both the movie and the book that inspired it. And then a couple of amazing things happened last week. I put together a last-minute trip to New York City, and when I'm in New York, I love to see a show (or three!), and I had decided on Big Fish. Then I got an email about the new ebook site, Zola Books, saying that they had the exclusive rights to the Big Fish ebook.
What perfect timing! I was able to start the book, and I did see the show, and will report more on that later when I finish the book. But I wanted to let you know that Zola books is offering a special one-day sale on Big Fish from October 28 – 29. It's only $1.99. I know that I fill my ereader with sale titles all the time so that they'll be ready when I need one.
Check out all of Zola's daily deals, and if you want to check out Big Fish, then take advantage of the exclusive 1.99 price.

Find out more about Zola Books, where you can download all of their ebooks to ipad or iphone with unique features readers will love. The exclusives (such as Big Fish and Dawn's favorite The Time Traveler's Wife) are available on all tablets and ebook devices. Find out how it works HERE.
An example of the cool extras at Zola is the page showing some scenes from the movie Big Fish, inviting readers to see similarities and differences.
Stay tuned for my review of the book, movie, and the Broadway show!