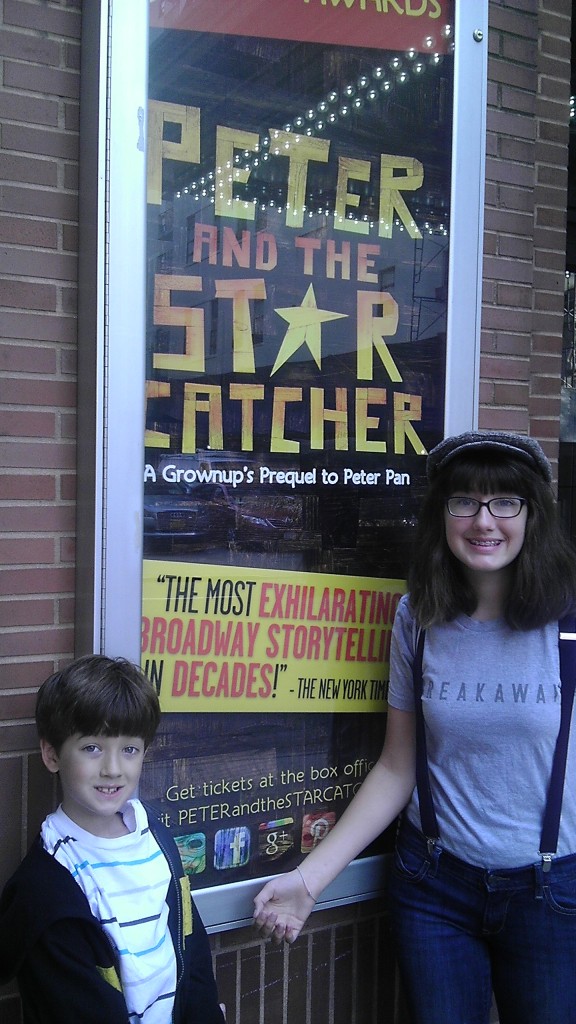 The kids and I took a great vacation to New York City last month, and a highlight for all of us was definitely seeing Peter and the Starcatcher. It begins on tour this month in Dallas, and visits Houston and San Antonio next, continuing throughout the South, West and Northeast in 2014, while it continues at the delightfully intimate venue of New World Stages in New York City.
The story is a prequel to Peter Pan, but it's not a kids' show. The show's site recommends it for ages 10 and up, and I'd agree. My 9-year-old son enjoyed it as much as my 15-year-old daughter and I did, but he likes quick banter and subtle humor perhaps more than a typical kid of his age.
The show is truly like nothing I've ever seen. A cast of 12 plays 100 roles. The stage set is simple. The cast and the words — so much fast-paced dialogue — tell the story. This quick video conveys the feel of the show:
There's humor and a great backstory about why Peter Pan is the boy who doesn't want to grow up. Whether or not you have kids with you, I'd recommend you see this in New York City (the small venue is perfect). This could be especially enjoyable for teens or men (or women) who don't like musicals.
My daughter read the Dave Barry and Ridley Pearson book Peter and the Starcatchers (yes, the book is plural, but the play is singular) years ago. I think she liked it, but said it was kind of complicated to follow. When I asked her if she thought Kyle (9) should read them, she said maybe in 5th or 6th grade. He's got plenty of reading material on his shelf now, but I do think that I'll recommend that he read them, especially since he enjoyed the play so very much. The long detailed books will keep him busy for a while if he likes them.
Have you seen the show? Have you read the books? Please leave a comment and let me know. I'd especially like to know how similar the stories really are if you've experienced both.
Check out our current giveaways. Subscribe to our feed. Follow us @5M4B on Twitter or on Facebook.
Jennifer loves New York and Broadway. Check out her quick thoughts on all the shows she's seen, and more on Newsies and the Blue Man Group, the other shows we caught on this trip, over at her personal blog Snapshot.