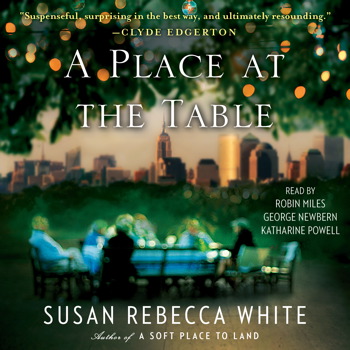 When I was pitched A Place at the Table by Susan Rebecca White, the author's name sounded familiar, but I couldn't place it. Then I remembered that I read another of her books, A Soft Place to Land (linked to my review). I didn't love that one, though I wanted to. The characters engaged me, but it fell flat.
Fortunately A Place at the Table hit all the right notes.
I love the opening of the publisher's description:

Celebrating the healing power of food and the magic of New York City, A Place at the Table follows the lives of three seekers who come together in the understanding that when you embrace the thing that makes you different, you become whole.
New York City? Food? Journeys towards self-awareness? Count me in!
The novel starts off in 1929 in Emancipation Township, North Carolina, where African-American siblings Alice and James witness a lynching. Then it shifts to Bobby in Decatur, Georgia, 1970, who can advise his mama on her wardrobe, and decorate his church craft within an inch of its life, but doesn't really fit in with the other guys, especially his super-macho brother.
I didn't quite get the connection between the two sections, especially the first one which wasn't very developed, unlike Bobby's story. But once Bobby goes to New York ten years later, it begins to come together.
Much later in the novel, we meet Amelia, a woman struggling through a bad marriage. She is interesting, and once I stop worrying what she's doing here, I'm back to enjoying the novel.
In the end, most of the characters come together in surprising yet believable ways. The characters were strong, and the plot matched their development chapter for chapter.
NOTES ON THE AUDIOBOOK
Novels that follow a personal journey are among my favorite to enjoy as an audiobook. I liked this one a lot. You can watch a video of the author Susan Rebecca White talking about creating all the different voices at the Simon and Schuster page. You can also hear an excerpt from the novel, which was narrated by Robin Miles, George Newbern and Katharine Powell, giving a separate voice on the audio to each of the characters' perspectives as well.