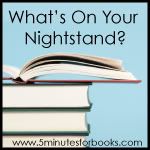 Whether or not you live and die by the school calendar, which may still show several weeks of school, Memorial Day marks the start of the summer season. What does that mean for you? Will June bring more reading time? Less? Will your reading choices change to light beach-y reads?
Let us know! Tell us about what you plan to read this month, or if you'd rather, what you completed last month by writing a post for your blog (or leave a comment if you are blogless). If you'd like, tell us more about the whens, wheres and hows of these books. And then don't forget to visit around to see what is on everyone else's nightstand.
Check out our curren28t giveaways. Subscribe to our feed. Follow us @5M4B on Twitter or on Facebook.