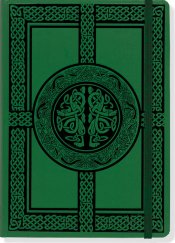 Peter Pauper Press has a myriad of paper supplies and stationary with all kinds of designs on them. We've mentioned them a time or two around these parts (being fans and all!) and if you haven't checked out their products, we'd encourage you to do so. Jennifer was the last to mention just how much she enjoys Peter Pauper Press journals and so I am delighted to announce to you that we one to give away with a Celtic design on it. Of course, you don't have to use this journal only during the month of March, in an effort to remember Irish roots or anything. Any time or occasion will do. I use my journal to keep count of my blessings (Bing Crosby style, of course!) Jennifer uses hers to keep track of the books she is reading. Whatever your reason to journal, I doubt you'll find better quality journals than these.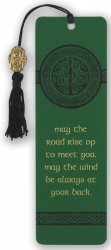 Back to the upcoming holiday though – Peter Pauper Press has a whole line of Celtic inspired items, including the lovely bookmark that you see here, as well as note cards which have the same design as is on the journal (green with black design). The bookmark has the traditional Irish blessing on it, as follows:
"May the road rise up to meet you, may the wind be always at your back."
It's a great little St. Patty's Day gift for a book lovin' friend!
Perhaps, however, you would enjoy this gift for yourself? Peter Pauper Press has offered to give one of each of these three items away to one of you: the green Celtic journal, the note cards and a bookmark. Interested in winning? Simply leave a comment below. Be inspired by the holiday, for the holiday, or just by your love of Ireland – enjoy!
We'll announce the winner on March 10.
Check out our current giveaways. Subscribe to our feed. Follow us @5M4B on Twitter.
Carrie comes by her book obsession honestly, having descended from a long line of bibliophiles. She blogs about books regularly at Reading to Know and Reading My Library.