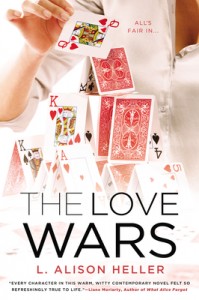 Given the subject of this novel, Molly Grant, divorce lawyer to the rich and ruthless, I am surprised how much I loved it. Divorce happens — it's happened to friends of mine, it happened to my parents — so I'm not just living in perfect-marriage blissworld. That said, it's a difficult topic to approach in a genuine way. I wouldn't want to read a jokey lighthearted fictional approach to marriage, but truly plumbing the depths of the devastation isn't really "entertainment" either.
The Love Wars isn't really a story about divorce. It's a story about a divorce firm, and specifically attorney Molly Grant's move from corporate to civil law. This is a true "workplace drama" setting. This was one of the most charming elements of this novel, getting a true look at the arrogant partners, the associates' long hours that they work as they try to make partner, the relationships that are formed between associates, the involvement in clients' cases, and sometimes — especially in Molly's case — in their lives.
I think that because the clients are profiled are the uber-rich and spoiled, there wasn't as much of an emotional attachment for me. I ended up with a vague feeling that those who were wronged were better off without the rich jerks, though those aren't my true values in regards to marriage. Divorce isn't really good for anyone, save the few abused spouses, and even then it's not easy. And this side is apparent as well, as children are dragged through custody battles etc etc.
There's an interesting twist to the corporate angle with one of Molly's particular cases, and of course a little romantic tension. L. Alison Heller used her real-life experience in law to give The Love Wars a fantastic setting that made for a great read.
This book is included in the BookSparks Summer Reading Challenge, and I agree that it has the right elements for a light but totally absorbing summer read.