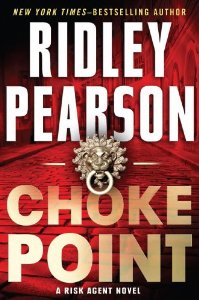 Choke Point by Ridley Pearson (yes, the same Ridley Pearson who wrote the Kingdom Keepers books that Mister Man so loves) is a Risk Agent novel, featuring freelance operatives John Knox and Grace Chu. It is the second novel in the series, following The Risk Agent. Both novels feature the same main characters who have vastly different strengths that play off each other well.
The novel is a suspense and spy type thriller, with a lot of action and the expected twists and turns, with periodic violence and sex, although nothing graphic. It takes place in Amsterdam where a journalist has accidentally discovered a sweatshop and published stories about it. An EU bureaucrat is killed in a bombing, and the journalist is trying to uncover more information but getting in over her head.
A very rich philanthropist hires Rutherford Risk, a private "security firm," to shut down the sweatshop where young girls are hand making rugs. John Dulwich knows exactly who to hire. He targets John Knox who has a soft spot for anyone who's been abused and needs the money badly. His nest egg that he'd been building has been embezzled from his autistic younger brother by a woman who took advantage of him, and Knox desperately needs to create enough of a nest egg that Tommy will be taken care of in the event that anything happens to John rather than be institutionalized. And yes, he sees the irony in the danger of his work to create stability for Tommy in case anything happens to him. John is there for his tactical skills, as well as his muscle.
Grace Chu, on the other hand, thrives on field work and is ambitious in wanting to get ahead in Rutherford Risk. She was trained by the Chinese Army and has incredible technical skills that allow her to hack into almost anything. She's smart and well trained in combat but is inexperienced in these situations and easily lets John lead the way where he has more knowledge. When she's in her element, however, she doesn't hesitate to step up and take charge.
Shutting down the sweatshop is every bit as convoluted a rat hole as you would expect it to be. For every step forward, there is another step backwards or to the side. There is also a side romance between John Knox – who plays the role of John Steele, a photographer who wants to be a part of the story – and the journalist who isn't sure who to trust or what to believe, and Grace also works on tracing the embezzled money with a subplot that seems to be carrying from one book to the next.
The book is fast paced and a page turner. It isn't deep, but it's entertaining, and the characters are satisfying. The vulnerabilities they all show create a humanity that makes them far more relatable than they would otherwise be. The book follows and expected plotline, but there are enough twists and surprises within the book to keep it interesting without making it seem so far fetched that you simply raise your eyebrows and can no longer suspend disbelief.
I haven't read the first book in the series, but I will definitely do so after having read Choke Point. It's gripping story with compelling characters. This is definitely one that I will be passing along to my dad to read. Meanwhile, I'll impatiently await the third installment of the series.
Thanks to the publisher, who sent me a copy for review, we have an ARC (Advanced Reader's Copy) for one of you, so you can win it before you can buy it on June 4 (U.S. shipping addresses only). Leave a comment if you'd like to win. We'll announce the winner on May 22. The giveaway is closed.
Check out our current giveaways. Subscribe to our feed. Follow us @5M4B on Twitter or on Facebook.
Michelle has never been to Amsterdam, much as she loves Europe, but she's pretty sure she'd never want to experience this part of Amsterdam life. See what she is interested in on her blog Honest & Truly! or follow along with her on Twitter where she is also @HonestAndTruly.