Here's the thing. My family loves Tiger Tales books. We get so excited when their new releases hit our front door step. We are excited because it is almost 100% guaranteed that we will love each and every title that is in the box. This new Spring selection is no exception. Check out some of their new and adorable new books!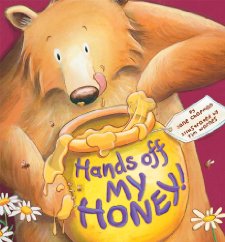 In Hands Off My Honey!
Bear comes stomping out to his hollow by the big oak tree and roars, "I have a great big jar of delicious honey! And it is ALL mine!" Mouse overhears and determines that Bear is going to share that honey – like it or not! Mouse convinces the Rabbit brothers and mole to go after the honey as well and they agree to team up for the prize. But how to get it away from Bear? And what happens when Mouse DOES dip his hand into Bear's honey pot!? As it turns out, playing a game of "Big Scary Bear" is a favorite pass time of both Mouse and Bear and to the surprise of their furry friends, they agree to play another round. It is a surprising book that young children who like to play "scary" games (you know…like Hide-n-Go-Seek, etc.) will identify with and be amused by.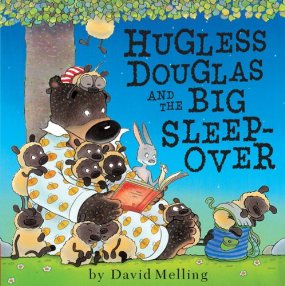 Hugless Douglas fans will be excited to hear that there's a new title available. In Hugless Douglas and the Big Sleepover
Bear is going to a sleepover at Rabbit's house. He is very excited as he packs up his bag and heads out. Hugless Douglas becomes lost on the way and climbs a tree to reorient himself and in so doing suffers some calamities which cause him to accidentally bring along a flock of rather familiar looking sheep. Rabbit doesn't seem to mind the extra visitors but there is a question of where to put them all for the night as Rabbit's home isn't exactly big enough to accommodate the crowd. But somehow it all works out and David Melling manages to charm his readers once again.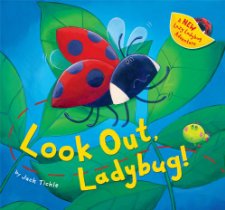 I know there's not a bear on the cover of this book but bear (sorry, couldn't resist!) with me for a second. Does anyone out there remember The Very Lazy Ladybug
by Isobel Finn and Jack Tickle about the lady bug who is so lethargic that she can't seem to learn how to fly? Well, Jack Tickle (whose name my children find greatly amusing, by the way!) is back with another Ladybug adventure. Look Out, Ladybug!
is kind of in keeping with the first title except that in this new story she is learning how to fly but is "not very good at it yet." She bounces on, off and around a variety of animals in her awkward attempts at taking to the skies. She is flailing about miserably until she lands on the monkey's banana. The monkey, who is trying to be helpful, flings her off….right towards a bear! Whoops! As you might imagine, our friendly-but-sort-of-lazy Ladybug figures out how to fly rather quickly in this cute "sequel" in the series.
Many thanks to Tiger Tales for delighting us yet again with such lovely new titles. Keep 'um coming!
Carrie pretty much lives and breathes books, carrying on conversations about her favs and least favs over at Reading to Know.com.