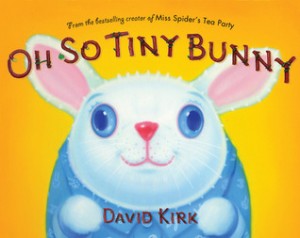 Fans of Miss Spider and her creator, David Kirk, will be excited to hear that he has released a new title – Oh So Tiny Bunny
. Adult readers will easily pick up the message of this picture book and young children will not be far behind. Oh So Tiny Bunny is indeed an oh so tiny bunny during the day. But when he goes to sleep at night, he dreams big, amazing and fantastical dreams. Mostly, he dreams that he is big and tall.
When he is big and tall, he can eat clover as tall as trees and carrots as big as railroad cars. He can hop over houses and bound over bridges. There is only one teeny, tiny problem: Oh So does not have anyone to share his adventures with! All of his rabbit friends are small just like Oh So is "in real life". In the end, Oh So realizes that as amazing as it could be to really be able to do all of these big and amazing things, it's really not so fun to do them all alone. He realizes that he needs a friend.
This book is a lesson in contentment: learning to enjoy life at exactly the size you are and exactly the place you are. It's about finding and having "kindred spirits" to love. It is about sharing adventures with people you care for. Simplistic in the telling, Kirk makes a tiny point in a big way through Oh So's dreams. Coupled with his unique artwork which features fluorescent colors and starry bunny eyes, this is a cute book to check out.
Another illustration from Oh So Tiny Bunny
, just to give you a further tease:
Thank you, Macmillian Children's Publishing Group, for shooting a copy of this book my direction in exchange for my honest thoughts.
Carrie shares her honest thoughts on any number of children's books over at Reading to Know.com.