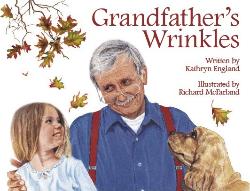 Grandfather Wrinkles, written by Katheryn England and published by Flash Light Press ranks as one of my top favorite family stories. I've seldom met with a book that is simple in approach and yet so very deep in meaning. It is full of the joy of family relationships.
This book tells the story of Lucy who is spending a little time with her grandfather one fall day. She asks him the question, "Why doesn't your skin fit you anymore, Granddad? It's all crinkly!" in reference to his many wrinkles. As you turn the pages you experience his joy as he relates how he went about collecting his wrinkles. One wrinkle came as a result of smiling too much on the day he married his long-time bride. Another wrinkle was gained at the birth of his daughter, another over a family outting that he enjoyed, and still another when Lucy's mommy married. The two biggest wrinkles were as a result of smiling the day that Lucy herself was born.
Richly illustratated by Richard McFarland, this book is a keeper. It is a book full of joy in remembering the past and yet still looking forward to things to come. It's a story of age and heritage. It is both unique and well-done. This is a story to treasure!
Carrie comes by her book obsession honestly, having descended from a long line of bibliophiles. She blogs about books regularly at Reading to Know.