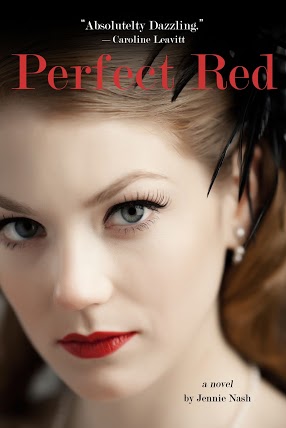 Perfect Red features some of a booklover's favorite things — publishers, one writer chasing the story that won't let go and another writer searching for the next big hit, and a passionate independently-owned bookseller. I loved these details! These themes and an interesting historical setting makes a good story great. It takes place amidst 1950's McCarthy-era persecution of suspected communists that hit the arts community especially hard.
Lucy Lawrence is a top editor's secretary, but she has dreams of writing. She comes alongside him, helping him to hide a secret that interferes with his ability to do his job, hoping to gain more of an "in." When the handsome author TJ Wright meets her, he calls her his muse. She certainly feels he's attractive, but more than that she teams up with up wondering what he can teach her.
In the meantime, her sister doesn't understand her choice to live on her own in NYC when she is perfectly happy to settle down in their hometown with a husband who can provide for her financially. Her cousin June wants her to do what all the other young single ladies are doing — use the lipstick called "Perfect Red" to lure in a man, be it TJ Wright or someone else.
Lucy's goal isn't to land a man, but she does long to experience some passion, and she is intrigued by the myths surrounding the creation of Perfect Red, which leads to the idea of a story that won't let her go. Her father is a chemist, and he too is pursuing the elusive perfect red color, a passion that won't let him go either.
All of these people (and others in the novel as well) are trying to follow their passions. This brings disaster to some and ultimate fulfillment to others and created the kind of dramatic tension that I love getting lost in.
Jennie Nash is another one of those authors who I've enjoyed following, loving both of her novels that I reviewed The Threadbare Heart and The Only True Genius in the Family. She decided to self-publish this novel, and knowing that makes the themes in this novel ring even more true. I'm happy to be able to help her get the word out.
She has offered up a copy to one winner, available as an ebook on any platform, or a hard copy if you prefer (and check out the price on the ebook version — worth the money if you don't win!). Leave a comment telling me how you like to read your books if you'd like to win.The giveaway has closed.
You can get an extra entry by leaving a relevant comment on Jennie's On Reading post "Shopping at the Department Store of Ideas".
Check out our current giveaways. Make sure you don't miss what's coming up: Subscribe to our feed. Follow us @5M4B on Twitter or on Facebook.