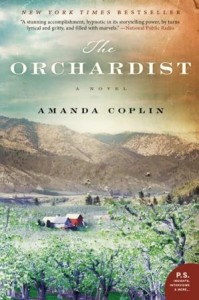 Amanda Coplin's debut novel The Orchardist was released in August to critical acclaim, quickly rising up the bestseller lists. I added it to my to-read list, so when we were offered this powerful novel to promote the paperback release, I knew this was my chance to see what the fuss was about.
Talmadge lives a quiet life tending to his orchards, selling his fruit at the market, smoking in companionable silence with horse wrangler Clee and occasionally taking a meal in town with local healer Caroline Middey. When two girls, filthy, young, and pregnant, steal some of his fruit, he lets it pass, and then feeds them when they appear in his orchard. He learns a man named Michaelson is looking for them but decides this man is not to be trusted, confirmed by a visit to Michaelson at his brothel.
The girls, sisters Della and Jane, slowly allow themselves to trust Talmadge, and when he delivers a baby girl named Angelene, he easily assumes responsibility for her. A tragedy leaves Della to head down a path of aimlessness and then vengeance, leaving Angelene to forge her own path in life with assistance from Talmadge. Having lost his father to a mining accident, his mother to illness and his sister to the woods, Talmadge has accepted his solitary existence, but the arrival of the girls, and then the baby, provide the family he's been yearning for.
The Orchardist is a beautifully written historical fiction novel, thought it took me some time to get used to the literary style, especially the lack of punctuation for dialog. The character development is thin and the story meanders some, but this is the type of book that's about the journey, not the destination. At times I would have liked a little more description, as I felt I was missing some key details, but on the other hand I liked how each chapter felt like a snapshot in time, almost as if the author is providing small glimpses into the characters.
This novel has been described as beautiful, haunting, and sad, and I recommend it to those who enjoy literary and historical fiction. Thanks to the TLC Book Tour for providing this book for review.