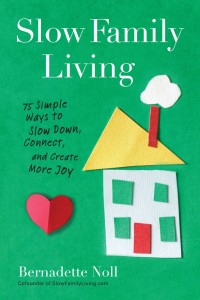 Are you tired of being busy? Tired of running yourselves ragged? Tired of DOING so much for your kids that you don't just have time to BE?
Yeah, me too.
I was glad to read Bernadette Noll's Slow Family Living: 75 Simple Ways to Slow Down, Connect, and Create More Joy and have picked up a few ideas I hope to incorporate into my daily life.
Click over to my review of Slow Family Living over at 5 Minutes for Mom to find out about this revolutionary book and concept of slowing down and connecting more. While you're there you can enter to win a copy.