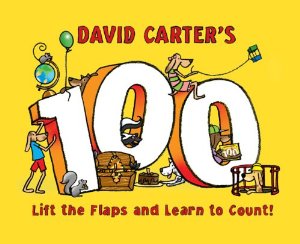 "Mommy, I can count to 100!"
These are words that my five year old loves to say, celebrating one of his favorite accomplishments again and again. Kids love numbers, and the idea of a number as large as 100 is a delightful one. David Carter's 100: Lift the Flaps and Learn to Count is a new picture book that guides children from one to 100 in fun pictures and the most flaps I've ever seen in one book.
As children turn each page, they discover two groups of five flaps to turn, each revealing the next number in the count up to 100. Each two-page spread features a different environment, encouraging children to find and count creatures in the deep blue sea, vehicles in the busy city, and delicious fruits, vegetables growing in the garden, and more. At the bottom of each stack of flaps, young readers are praised for making it to the next level.

With bright colors and lots of pictures to uncover with the lift of a flap, children will happily count along with this thick picture book. Kids might even be tempted to read this book backwards, counting all the way back down to one. With David Carter's 100: Lift the Flaps and Learn to Count young readers like my five year old can happily practice their counting in a fun, interactive manner. To see the book in action, check out the official book trailer!
We're happy to offer a copy of this unique lift-the-flap book to one of our readers. Leave a comment to be entered, US and Canada mailing addresses only, please. We will announce our winner on March 6. The giveaway is closed.
Check out our current giveaways. Subscribe to our feed. Follow us @5M4B on Twitter or on Facebook.
Dawn just might have a picture book addiction. The only solution she sees fit is to ask her husband to build more shelves. She likes to babble away on her blog, my thoughts exactly.