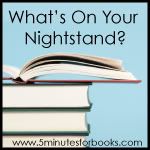 Did you get some books for Christmas? Are you halfway into several books, taking advantage of extra holiday leisure time? Or do you have big plans for the next few weeks?
We want to hear about it. What's on Your Nightstand is our opportunity to share what we are reading and why, or give some thoughts about some recently enjoyed books, or show a picture of that about-to-topple stack of library books that you hope to read before they are due.
Write a post on your blog and link it up here. Then take some time to visit around.
Check out our current giveaways. Subscribe to our feed. Follow us @5M4B on Twitter or on Facebook.