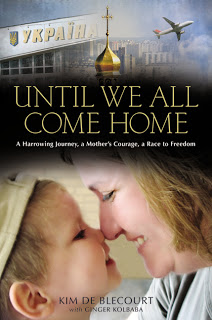 Until We All Come Home
is a book which I ended up taking very personally. I knew I would because it focuses on a subject that is rather near to our hearts – international adoption. (My second born son is adopted from South Korea.) Also, the country Moldova features in this book, although most of the story focuses on Ukraine. We have some family friends who just moved to Moldova as missionaries and so that aspect also drew me to this title.
I devoured Until We All Come Home
in a single day. The topic being familiar and interesting to me, coupled with the writing style which builds the story into something of a perfect frenzy before unraveling how everything fell out, keeps one wanting to read quickly to discover what ultimately happens. (Although the title should be your biggest clue, really.) This story, while touching to me in many ways, was also irritating in others. No doubt anyone who is remotely interested in or wrapped up in an international adoption will find things to love and hate about Kim De Blecourt's story. Ultimately though, we have to remember that each of our adoption stories is our own. There are good experiences and bad experiences out there. (Mine had some rocky spots at the beginning but it is turning out beautifully!) I could not possibly read this book, or write a review of it, without noting that it has the potential to ignite great passions in the reader and in society at large.
In short, this book tells the story of the De Blecourt's international adoption from the Ukraine. Kim De Blecourt is the primary story teller here and she explains how she and her husband came to make the decision to adopt internationally. (Again, please remember that all adoption stories are different and the reasons for going international are also different by case!) Each country has different requirements for adopting parents and the Ukraine requires that the parents go and visit the country and choose their child in one trip, and then leave the child and country until a court date has been set and then go back to finalize and bring the child home. (That's more or less the gist of it, with about a thousand particulars in between.) The De Blecourt's traveled over with their biological daughter, expecting to be in the country for six weeks at most. However, it ended up being an eleven month trip for Kim and resulted in her having to quickly exit the country with her adopted son in tow, hoping to avoid arrest and the child being returned to the orphanage.
If you have never adopted or given much thought to it then I might have just prepped you to read an interesting story. If you have adopted, especially internationally, you have just read the above paragraph and have several red flags waving in your mind and are wondering what the crazy thing was that happened to bring about this tale! Before anyone starts hollering though, I think they ought to read this book and pay attention to the details of the facts which De Blecourt lays out, explaining why the interminable delays and why she had to make such a hasty exit from the country. Her story is horrific, no matter what your persuasion on the international adoption system. (And here I thought my process was bad!) When the system breaks or when people decide to mess with it out of a sense of vengence, people are hurt. The children hurt over the delays and the prospective parents feel perfect agony. De Blecourt was at risk for a failed adoption and that makes me tremendously sympathetic to her decisions. At the same time, I don't agree with every decision that she made in order to secure her son. Then I have to remind myself that every story is uniquely different and there are a lot of details in her case that are not easy to comprehend – even though I've been through the process!
Despite my disagreements over some of the De Blecourt's decisions, I do agree strongly with one thing she wrote in her introduction and its something that any reader needs to keep in mind:
"Ultimately, this is a story of an orphan who found a forever home. This is also a story of a mother who, alongside her husband and daughter, felt a call to adopt a child and remained resolute to make that a reality. But more important, this is the story of a God who will move mountains for one abandoned child, who will stop at nothing to show how much he loves and cares for the orphan, and who knows each one by name."
Her son is very, very loved. Not only does he have parents who are willing to fight for him, care and love on him, but he does have a God who looks after the widows and orphans and Who, for the record, requires us to do the same. On the whole I like this book. I find it incredibly thought provoking and no doubt it raises scores of questions and arguments surrounding the issue of international adoption. It's a very worthy and challenging read any which way you happen to look at the subject.
Thanks to Faith Words publishing who sent me a copy of this book in exchange for my honest opinion.
Carrie blogs about books and life at Reading to Know.