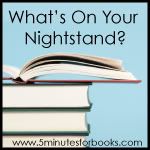 The holidays are here! I know that things are much busier, but I hope that, like me, you got in at least a little bit of reading over Thanksgiving weekend.
We always travel at Christmas, which means more reading time, especially now that my kids are old enough to fly without constant attention from me. In fact, now they usually have their own books (or handheld devices, of course) to keep them busy.
Maybe you'll read while standing in line at the post office or the mall.
However you manage to squeeze it in, we want to know what you're reading! Link your post up below, or tell us about it in the comments. And be sure to visit the others who are joining in as well.
Check out our current giveaways. Subscribe to our feed. Follow us @5M4B on Twitter or on Facebook.