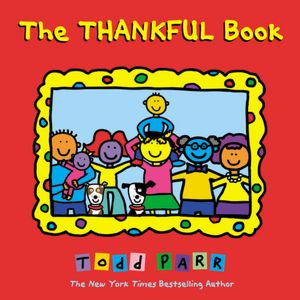 Todd Parr is back with a new, and seasonally appropriate picture book, The Thankful Book. Fans of Parr's collection of positive-themed books that emphasize acceptance of differences and appreciation for our world will be pleased with his latest that follows a similar theme.
Just as you may be seeing Facebook friends updating their statuses this month with daily posts of gratitude, The Thankful Book begins with this sentiment: "Every day I try to think about the things I am thankful for."
As readers turn the pages, they're greeted by a variety of colorful animal and human figures expressing their gratitude for both basic and more complex things in their lives– gardens, friends, pets, walks, vacations, music, and colors among others. The reasons for their thankfulness range from the serious to the silly. The book lover in me couldn't help but adore the page that depicts a child atop a stack of books stating, "I'm thankful for the library because it is filled with endless adventures," and my kids guffawed at the child who declares gratitude for underwear, standing next to a dog with a pair of polka dot boxer shorts on his head.
As with his previous books, Todd Parr's The Thankful Book can be enjoyed and then talked about by parents and children, giving parents an opportunity to share their own personal values and expressions of thankfulness. Though it's a concept worth considering and discussing all year round, as we approach Thanksgiving in coming weeks, it's certainly a good time to strike up a conversation on the topic with our children.
Dawn loves when picture books refresh important lessons in her head. She probably doesn't express enough thankfulness in her own life, but she's hopeful that readers of her blog, my thoughts exactly, can interpret it in her family stories.