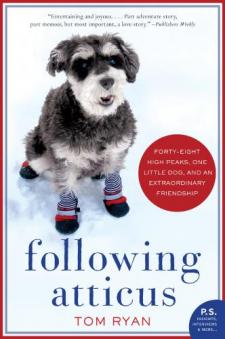 In Following Atticus: Forty-eight High Peaks, One Little Dog, and an Extraordinary Friendship Tom Ryan tells his story, his story of a life made richer by a dog.
He thought his life was just fine. He was the editor in chief of The Undertoad, a weekly New England paper that he started which exposed and analyzed all sides of local politics. It had gained him some enemies, but in general he was well-respected, and he enjoyed his work. His work, running the paper as a one-man show, had become his life.
He enjoyed his life as well, even though he missed the companionship of a woman and close extend family ties which had eluded him. Then one day he answered a friend's call for help to take in an elderly dog. The dog, Max, quickly became part of his life, and even the life of the town and filled in many of those holes. Tom's time with Max was short, but he knew after the experience that he wanted another dog – as much like Max as possible.
He looked at pictures of other schnauzers online, but none seemed to possess that special soul that he had loved in Max. When he found Paige, a breeder in i, she was able to match him up perfectly with this slightly odd pick of a recent litter. This perfect find and her release of the dog she felt affinity for started a friendship between the two dog lovers. With long-distance help from Paige, he trained Atticus as a companion.
As friends do, Tom and Atticus shared activity. They began hiking, eventually hiking all of New Hampshire's 4000 footers more than once, and in all sorts of weather conditions. "Following Atticus" up the mountains ended up bringing Tom closer to his family and closer to his true self.
I enjoyed this one, which read at times like a self-exploratory memoir, and other times as an adventure/travel/project tale. I think that anyone who is interested in local journalism will love the first part of the book where he talks about his work running a small New England town paper, animal lovers will enjoy the middle and end, and hikers will enjoy the last half. If you have a bit of interest in all these, as I do, it's a book you must pick up.
I can also tell you – I don't think this is a spoiler – that this book does not end the way that all animal books end. I always optimistically think "This one will end well. The inevitable won't happen," and then it does. No worries with this book, if you (like my husband) avoid animal stories for that reason.
At this writing, the Kindle edition of Following Atticus is only $2.99.

Jennifer is more an armchair adventurer, but is glad that books open up her world. When she does have adventures, she tries to remember to blog about them at Snapshot.