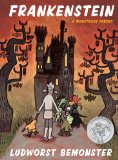 "In a creepy old castle all covered with spines,
lived 12 ugly monsters in two crooked lines.
In 2 crooked lines they bonked their heads,
pulled out their teeth,
and wet their beds…
The ugliest one was Frankenstein."
Just in time for Halloween comes the most monstrous parody I've ever read. Written by Ludworst Bemonster*, and winner of the coveted "CaldeNOT Horror" award, Frankenstein
tells the story of the little French monster who manages to be charming in spite of himself.
You guys, this book is so awesome. My twins are 15 and long past Madeline, and they loved this book. They remember reading Madeline–we loved her too–and Frankenstein had them in stitches. From his tormenting of the aptly-named Miss Devel to the incident when he eats the ceiling into the shape of a rabbit, Frankenstein
is terrible and funny at the same time.
Every detail is pitch perfect, from the illustrations to the rhythm and rhyme of the story itself, to the "CaldeNOT" award on the cover.
Although of course this book is perfect for the 3-6 age set (like the original Madeline books), Frankenstein
is a book that will be adored by older siblings and parents as well. Like I said, the twins loved it and read it out loud to each other. (Can I get a collective "Awwwww…"? These are boy/girl twins more prone to bickering than anything else.) This book would make a great addition to any library. After all, don't you want to know the equivalent coolness of an appendix scar? I'm not telling, but it's monstrous of course.
*real name author Rick Walton and artist Nathan Hale. I know, if my name was that boring I'd change it too. Oh wait…
Elizadevel adores Madeline but she might like Frankenstein even better, or at least as much–she doesn't play favorites. Also, she has had lines from Madeline stuck in her head for 2 days now. "They smiled at the good and frowned at the bad…" sigh… Read more at her blog Planet Nomad.