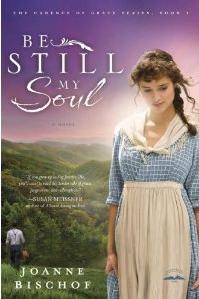 Be Still My Soul
is the debut novel by Joanne Bischof, and the first in what will be her Cadence of Grace series. As the book opens, we meet Lonnie Sawyer, an almost-eighteen year old girl living with her family in the hills of Appalachia a little over a century ago. Although she does not have a boyfriend, she is forced into marriage by her father after Gideon O'Riley, a bluegrass musician and the local ladies' man, steals a kiss one evening.
Lonnie finds herself an unwelcome addition to the O'Riley household, and it's not long before Gideon decides they will strike out on their own to find a future somewhere else.
To read my full review of Be Still My Soul, and enter to win a copy for yourself, click through to 5 Minutes for Mom.