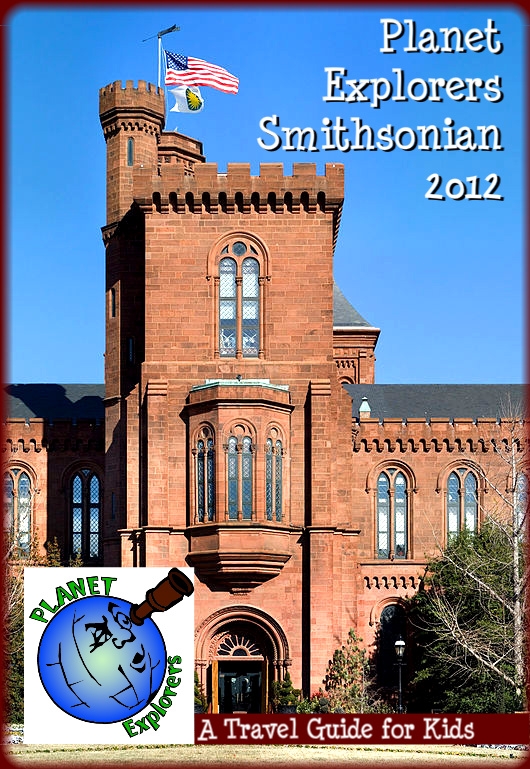 I've lived in the Washington, DC metro area for over fifteen years now, and though it's not where I grew up, it's where I've become a wife and a mom, and it's the place I consider home. Even out in the suburbs, the city is only a train ride away, and over the years we've spent many a day walking around DC enjoying all it has to offer. One of the main draws for tourists is the Smithsonian Institution's many museums and galleries, and of course, the zoo. For families traveling to our nation's capital, an e-book guide that can provide insights and entertainment for older children is Planet Explorer's Smithsonian 2012.
In these pages, you'll find information about ten of the museums and the zoo, along with the interesting history of the Smithsonian Institution and "The Castle," which graces the cover of the book. Each attraction that is highlighted has a wealth of information, suggestions for key features to check out on your visit, and active links to each attraction's website and others that can provide further info. Even though I've been to many of these museums countless times, I still was pleasantly surprised by some of the "Fun Facts" that were new to me. This is probably my favorite:
The funds that James Smithson donated to the United States, which helped establish the Smithsonian Institution, arrived from England in the form of 105 bags of gold. They were melted down in Philadelphia.
Cool! Alongside the facts and tips for visitors, some terrific photos await readers, especially in the section about the National Zoo. Tai Shan, one of the two giant pandas who are among the zoo's most popular residents, peeks out from a branch of tasty leaves, looking as majestic as ever. My twelve-year-old son and I have especially enjoyed looking through the photos of exhibits and features that we enjoy at the museums. Also provided are a map of The Mall (the strip of land stretching from the Washington  Monument to the U.S. Capitol, which houses many Smithsonian Institution buildings) and a larger street map of the NW area of Washington, DC.
Getting kids interested in history, art, and culture can be aided with a trip to our capital city, and the e-book Planet Explorer's Smithsonian 2012. If you're planning a trip with your own family, consider loading this up on your kindle, smartphone, or tablet, and get prepared or engaged during your visit. There's even a short quiz at the end… maybe kids would enjoy popping the quiz onto their parents by the trip's end!
Dawn always looks forward to a day in the city with her family, and their escapades often end up as posts on her blog, my thoughts exactly.