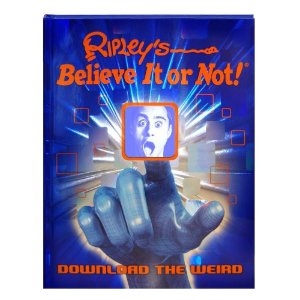 Ok, I realize this is a little strange. For me. Perhaps slightly out of character. Maybe just a little. (Then again, maybe not.) But I really am morbidly fascinated by Ripley's Believe it or Not. Apparently they now know this of me because they send me their books unsolicited. I received Ripley's Believe It Or Not! Download the Weird
, the newest edition, a few weeks ago and settled in to read/flip through it after the kids were down for a nap. (Fact: Ripley's can be intense. I usually have to hide their books from my children's eyes as I have one son who is extremely affected by visually odd things. He needs the things he sees to make complete and total sense. Ripley's does not.)
In Download the Weird
, Ripley's is getting hip and connected to the world wide web. Now you can download a Ripley's app for your Apple or Android to find hidden bonus content. MORE WEIRDNESS.
And what should you expect to find in this new edition?!
Meet a woman who lifts weights. With her hair.
Hear about how Tyler Kozar from Pittsburgh won 1,000,000 Pop-Tarts in a competition and created art with them. (Art?)
Learn about Snake Village where the residents breed three million snakes a year both for food and medicinal purposes. (Why?!)
See a picture of an 18ft crocodile (So long as it's just a picture, I'm ok!)
Want to see a picture of someone's very long tongue?
Amazing vehicles (Including an "Alien Bike" assembled by artist Roongrojna Sangwongpirarn. Say that 10 times fast!)
It's all BIZARRE! More so than even People Magazine.
Anyway, it's a strange attraction to me for some unknown reason. And now I submit it to you. At the very least, you can now say that you are aware that there is a new edition of Ripley's Believe It or Not!  out and about in this world. Now you, too, can  Download the Weird
.
Thanks to Ripley's Believe It or Not for sending a copy of this my way in exchange for whatever thoughts I might walk away with after flipping through their book.
Carrie tends towards non-fiction reads in general, but usually nothing as exciting and bizarre as Ripley's over at Reading to Know.