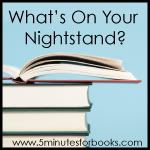 What are you reading? That's what the Nightstand carnival is all about. We want to know what's up next for you, or what you're currently reading or what you hope to get to.
Your list may be big or small, but we still want to read about it. If you are low on inspiration, check the other lists. I always find that I read a lot less when I get stuck with lacklaster books. So, just write up a post, put it on your blog, and link up (or join in the comments).
Would you like to share what your kids are reading? We'd love for you to join us in our monthly Kids' Picks carnival on the 2nd Tuesday of each month. The next one will be October 9. Come back and join us!
Check out our current giveaways. Subscribe to our feed. Follow us @5M4B on Twitter or on Facebook.